Funabashiya Official Site
発酵の力で日本を元気にAdditive-free, naturally aged and fermented kuzumochi
with an unchanged recipe for 218 years
Dedicated to Kuzumochi
for 218 Years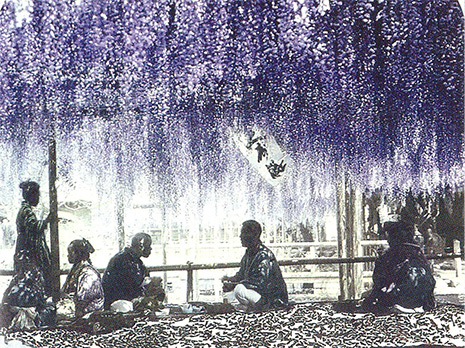 Funabashiya was founded in 1805 within the precincts of Kameido Tenjin Shrine in Edo (now Tokyo). The founder, Kansuke, originally lived in Shimosa Province (now northern Chiba Prefecture) and frequently visited Kameido Tenjin Shrine when the plum and wisteria flowers were in bloom. Noticing that the shrine had few places where visitors could rest, Kansuke decided to move to Edo and open his own tea shop. He served a sort of steamed mochi, which was made from wheat starch kneaded with hot water and steamed in a bamboo steamer, topped with sweet black syrup and yellow soybean powder. It quickly gained popularity among the shrine's worshipers and instantly became an Edo specialty.
Products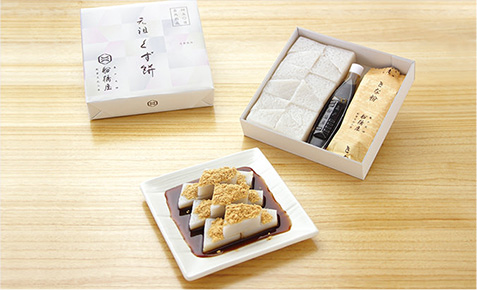 Original Kuzumochi
Funabashiya's kuzumochi, or fermented wheat starch cake, is a Japanese sweet with a chewy, unique jelly-like texture. It is made by steaming wheat starch fermented with lactic acid bacteria for 450 days. It is served with both sweet black syrup (kuromitsu), made by simmering brown and other sugars, and fragrant roasted soybean powder (kinako). As it does not contain any preservatives or artificial coloring, the product's shelf life is only two days. This traditional Japanese confectionery, which has been a treat for the Japanese people for over 200 years, is a must-try.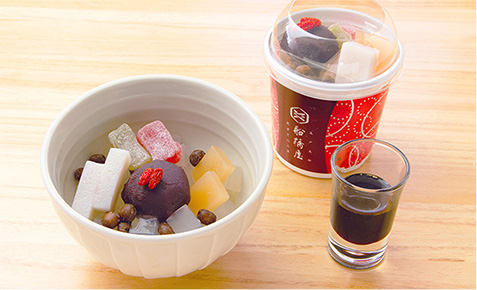 Anmitsu
Anmitsu is traditional Japanese confectionery made of agar jelly topped with homemade sweet bean paste and soft rice cake (gyuhi).*1 Funabashiya's agar jelly is made by the traditional method of boiling and solidifying agar. The sweet bean paste is made daily by our specialized chefs. Funabashiya's anmitsu is a one-of-a-kind treat that contains its kuzumochi (fermented wheat starch cake). Depending on the season, limited-edition anmitsu with agar jelly and sweet bean paste in other flavors are also available.
*1 A rice cake with a chewy texture made by adding starch syrup and sugar to glutinous rice flour and kneading it.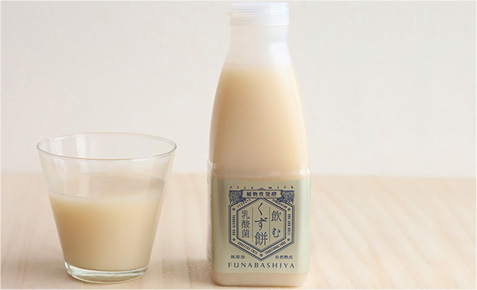 Kuzumochi
Lactic Acid Bacteria Drink
This probiotic drink is made from rice and lactic acid bacteria only. The lactic acid bacteria are collected during the fermentation process of kuzumochi (fermented wheat starch cake). The drink has a pleasant taste with the sweet flavor of rice and moderate acidity. (No sugar or preservatives added) In November 2022, it was awarded the Gold Prize by Japan Food Selection, Japan's first food and ingredient evaluation system.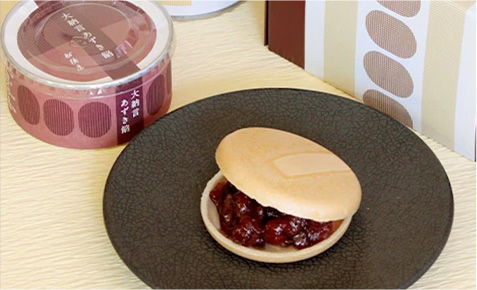 Monakabiyori
(Hand-filled Monaka)
Make your own monaka by filling two rice wafers with Dainagon azuki bean paste from Hokkaido and sandwiching them together. The freshly cooked azuki beans and the fragrant wafers are a delightful combination. The amount of azuki bean paste in the wafers can be adjusted to your liking.
Making Kuzumochi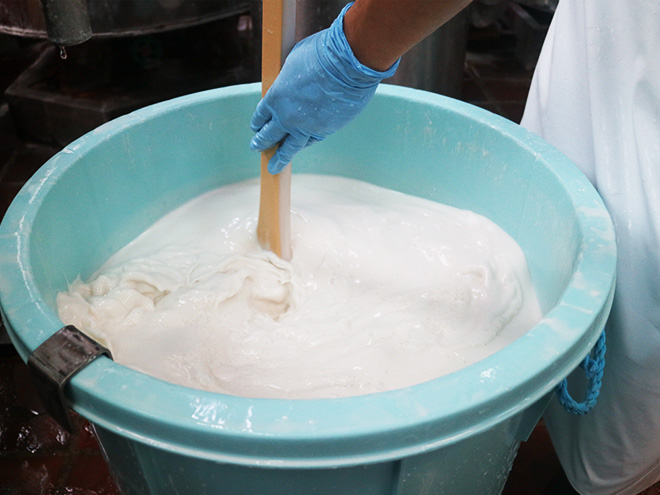 Boiling
Hot water is mixed with wheat starch, the main ingredient, to create a thick texture.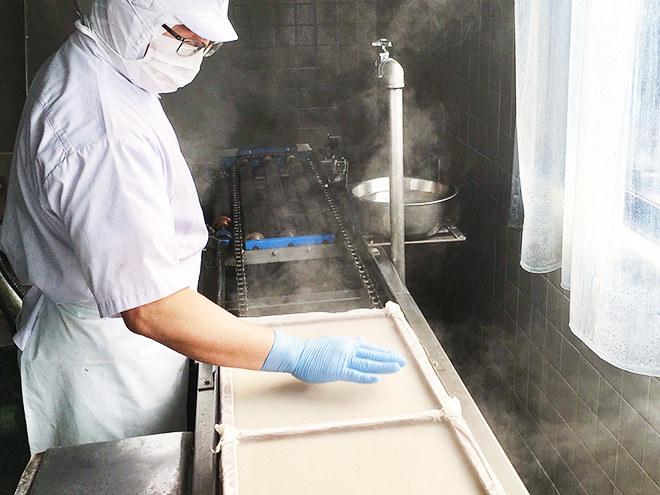 Steaming
The thickened mixture is steamed for approximately 10 minutes.
Skilled chefs examine the steamed kuzumochi to assess its quality.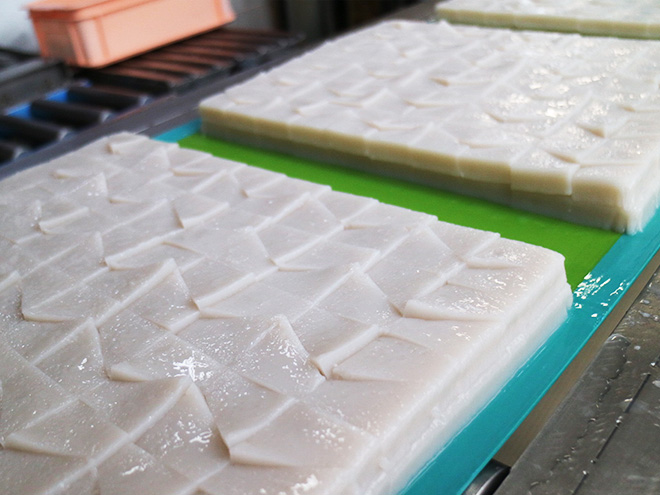 Cutting
The kuzumochi is cut into a shape unique to Funabashiya.
so that the sweet black syrup and yellow soybean powder can adhere to it.
Shops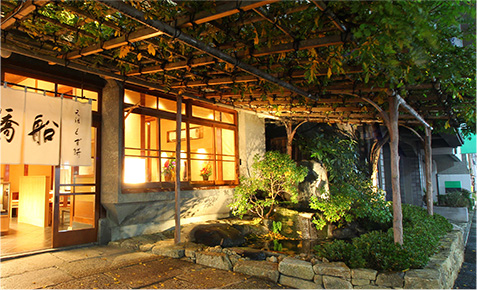 Kameido Tenjin Shrine Main Shop
Hours

9:00 a.m.–6:00 p.m. (café 11:00 a.m.–5:00 p.m. last order)

Address/Floor

3-2-14 Kameido, Koto-ku, Tokyo

Access

Approx. a 10-minute walk from Kameido Station on the Sobu Line
Approx. a 10-minute walk from Kinshicho Station on the Sobu and Hanzomon Lines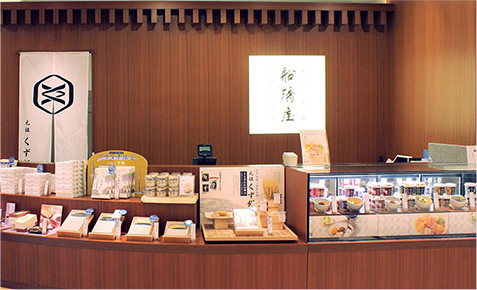 TOKYO SKYTREE TOWN
TOKYO Solamachi Shop
Hours

10:00 a.m.–9:00 p.m.

Address/Floor

2F Tower Yard Block 5 Food Marche
1-1-2 Oshiage, Sumida-ku, Tokyo

Access

Connected to Oshiage Station, Exits B3 and A2
Connected to TOKYO SKYTREE Station, Main Exit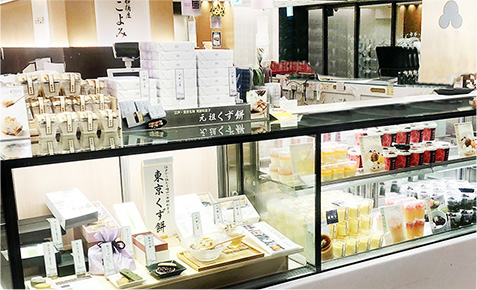 ecute Tokyo Shop
Hours

8:00 a.m.–10:00 p.m.

Address/Floor

3-2-14 Kameido, Koto-ku, Tokyo

Access

1F, inside JR East Japan Tokyo StationSobu and Hanzomon Lines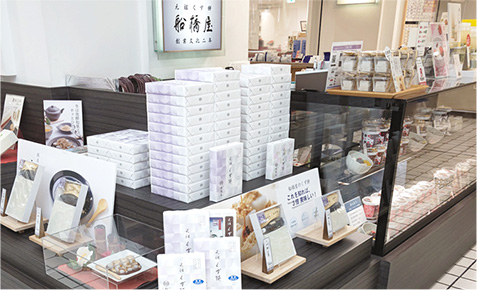 Matsuya Asakusa Shop
Hours

10:00 a.m.–8:00 p.m.

Address/Floor

1F Japanese Confectionery Section
1-4-1 Hanakawado, Taito-ku, Tokyo

Access

The 2nd floor is connected to TOBU SKYTREE Line Asakusa Station.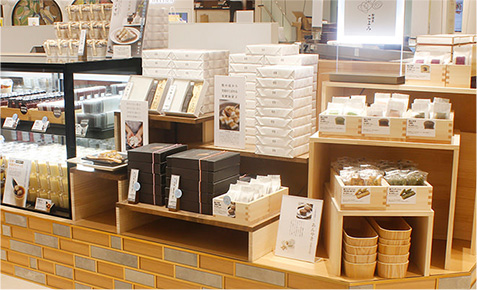 ecute EDITION Shibuya Shop
Hours

10:00 a.m.–9:00 p.m.

Address/Floor

1F Shibuya Scramble Square
2-24-12 Shibuya, Shibuya-ku, Tokyo

Access

Connected to JR Shibuya Station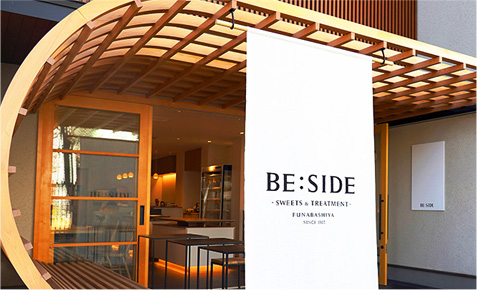 BE:SIDE Omotesando Shop
Hours

Open Wednesday to Sunday
11:00 a.m.–6:00 p.m. (café 11:00 a.m.–5:00 p.m. last order)

Address/Floor

3-14-6 Jingumae, Shibuya-ku, Tokyo

Access

Approx. a 7-minute walk from Omotesando Station, Exit A2
A 1-minute walk from Tokyo Metro Ginza Line Asakusa Station, Exit 7